Mercedes-Benz has always strived to provide the latest in technology and convenience. Continuing that tradition,
Mercedes-Benz customers will now be able to access Apple CarPlay® on many MY16 vehicles starting with
December 1st or January 8th production. Apple CarPlay® is designed to allow the same clean, simple interface
that users enjoy on their iPhone® to be also shown on their vehicle's display.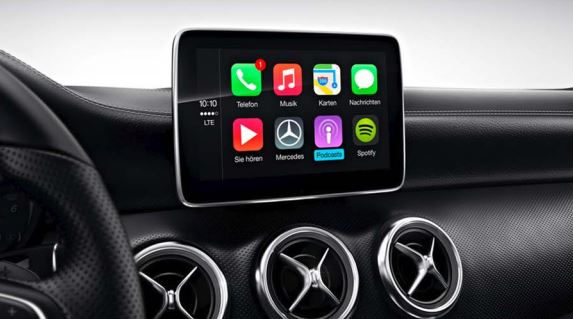 Functionality of Apple CarPlay® includes:
– Making and receiving calls (Phone)
– Reading and dictating text messages (Messages)
– Navigation to and from locations (Maps)
– Music streaming (Beats 1, Pandora, iHeartRadio, Spotify, Sticher, Rdio)
– Podcast and audio book streaming (Audiobooks.com, Audible, MLB At Bat, CBS Radio News)
– Use of Siri voice-control across the CarPlay® platform
Apple CarPlay® will be a completely different interface than the customary Mercedes-Benz infotainment. The
customer will not be able to use the Mercedes-Benz headunit functions at the same time as CarPlay®. For
example, use of the Spotify app cannot be done simultaneously with COMAND Navigation.
CarPlay® will also require a compatible iPhone® to be plugged into a specific USB port on the vehicle. This USB
data port will be marked with the following symbol (below right):

Having this symbol on a USB port does not necessarily denote the vehicle is equipped with Apple CarPlay®
Apple CarPlay® will be operated using the central controller or touchpad (if equipped). When utilizing the
CarPlay® interface, a press of the voice control button on the steering wheel will activate Siri for voice
commands.
For MY16 CLA, GLA, and B-Class there will be two different ways to order Apple CarPlay® starting with December
1st production:
1. Stand-alone Package ($350) – This will be called Code 868 Smartphone Integration Package
2. Part of a revised Multimedia Package (no cost enhancement to Multimedia Package) – As of December 1st production, Code 320 Multimedia Package will transition to Code 32C Multimedia Package with Smartphone
Integration of Apple CarPlay®
For MY16 E-Class Coupe & Cabriolet, CLS, GLE, and GLE Coupe, Apple CarPlay® will be automatically included
with the applicable package that includes COMAND Navigation. On the appropriate production start date for each
model line, Code 868 Smartphone Integration Package will automatically be included for no additional cost
only i.c.w. COMAND Navigation. Below is the packaging breakdown:
– E400 & E550 Coupe P01 – Premium 1 Package ($3,880) 12/1/15
– E400 Cabriolet P01 – Premium 1 Package ($4,080) 12/1/15
– E550 Cabriolet P01 – Premium 1 Package ($3,880) 12/1/15
– CLS400 P02 – Premium 2 Package ($3,650) 12/1/15
– CLS550 / CLS63 S COMAND Standard ($0) 12/1/15
– GLE300d & GLE350 P01 – Premium 1 Package ($3,830) 1/8/16
– GLE400, GLE450, GLE63, GLE63 S COMAND Standard ($0) 1/8/16
Apple has confirmed these apps to be supported at launch: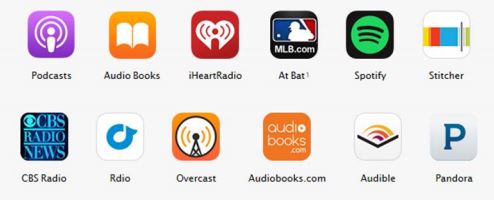 Please see www.apple.com/ios/carplay for the most up-to-date information on Apple CarPlay®
Please keep in mind, content and features available on Apple CarPlay® are selected solely by Apple Inc. and are
subject to the connected iPhone's network connection as well as applicable data fees from the wireless carrier.
Compatible iPhone® models: iPhone 5, iPhone 5c, iPhone 5s, iPhone 6, iPhone 6 Plus, iPhone 6s, iPhone 6s Plus