If there's one thing I understand, it's people. I've been in retail nearly my entire life - serving the public and helping my customers get what they want. Purchasing a vehicle, let alone a Mercedes-Benz can sometimes be the most important purchase of someone's life! I want to be sure that your experience is unparalleled to any experience you've had at any other dealership. Everything from scheduled vehicle pick-ups / drop-offs, timely responses to inquiries, and all complimentary car washes you want! When you're making the decision to join the Mercedes-Benz brand; understand you're investing in so much more than 4-wheels and an engine. You're investing into your safety and a long running heritage built on excellence and innovation.
"Chris was a great salesman! This was my first Mercedes-Benz and he exceeded my expectations! I'll be back and sending my family his way!"
5-Stars! | Google Maps
"Chris Stacherski was amazing! He went out of his way to make my experience truly exceptional. Not only did he make the process completely easy and quick as I for lack of a better word was "picky". He surprised me in many ways by providing a truly exceptional experience like none other. At no point was he pushy, he went out of his way to make sure that I was 100% comfortable with the choice that I made since I was a bit indecisive. He was even so kind enough to bring my brand-new license plate to my place of employment and personally install it for me. You can't find that kind of service just anywhere, I've already referred one person to him, and will continue to do so. Since purchasing, he has even checked in with me to make sure that I'm happy with my purchase. Working in a guest-centric environment, I have high expectations and they were exceeded which is saying a lot!!! If I could write him more than five stars I would! This is my third Mercedes-Benz and by far the best experience I have had!"
5-Stars! | Google Maps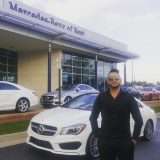 The Best or Nothing.
"Mercedes-Benz of Novi truly delivers that message. From the moment I entered the dealership to driving my C300 off the lot, I felt like I was part of the family.
As a younger buyer I was initially intimidated to even walk through the doors but to my surprise I was greeted with open arms before I could reach customer service.
My sales consultant, Christopher, went above and beyond my expectations. Not only was he attentive to what I was looking for as a buyer, his knowledge of the Mercedes-Benz brand and its vehicle lineup made my decision all the easier.
Mercedes doesn't need a sales pitch to sell its product, the quality speaks for itself. I've never felt so confident about making a vehicle purchase than I did when I purchased my C Class from Mercedes-Benz of Novi. If I could give more than 5 stars, I would.
Highly recommended!"
5-Stars! | Google Maps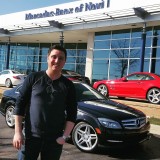 "I just purchased my first Mercedes-Benz after 45 years of purchasing, let's just say, other vehicles. Some good, others not so good. After meeting Christopher Stacherski and Peter Conyers, it didn't take long to make the decision to purchase a "real automobile" from Mercedes-Benz of Novi. Christopher delivered as promised and the entire process was the most pleasant I have ever had experienced. If I could, I would give Christopher 10 stars. Just as one of their motto's say, "I do feel like one of the family"! Fantastic job!!!"
5-Stars! | Google Maps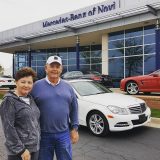 "Christopher Stacherski was brilliant. Very knowledgeable and a true blessing to work with!"
5-Stars! | Google
Pastor Warren
Increasing your Faith Ministries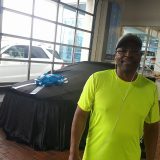 "Chris is an awesome salesman!!!! I am usually not an easy customer and he was so professional and courteous and gained my respect. In fact I had walked away from this dealership in the past because of poor customer service and the only reason why decided to stay with this dealership this time was just because of Chris!"
5-Stars! | Google Maps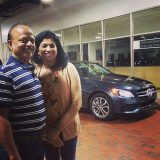 "Personally I feel he deserves more than 5 stars. Great personality, caring and most definitely he helps you the best way he know how."
5-Stars! | Facebook
Gerrea Brantley
Professional Freelance Model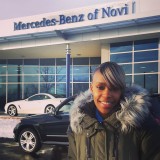 "Many thanks to Chris and sales manager Michael Dega for making sure we were truly happy with our purchase and got a great deal. Go check them out!"
5-Stars! | Facebook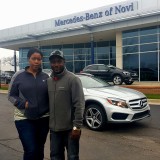 "Thank you for the first class treatment and going above and beyond in helping me get my new Mercedes."
5-Stars! | Facebook
Kate Lemon
Hurley Medical Center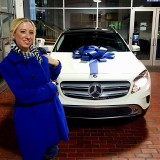 "Thank you, very much, first time to buy a car and i promise it won t be the last because he is the best dealer i have faced and he is a gentleman. Wish you the best and a happy new year and the best luck in Mercedes. Thank you, Chris. "
5-Stars! | Facebook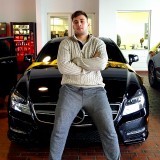 "Very happy with my experience purchasing Christopher Stacherski was and continues to be very helpful. There were a few issues after the purchase and they handled them to my satisfaction!"
4.5-Stars! | DealerRater
Gary Greenwood
Polarion Software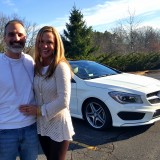 "Awesome. Great service. Perfect selection with my budget. Thank you!"
5-Stars! | Facebook
Danny Howe
Real Estate Investments / JDH Properties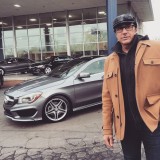 "This is my first experience with Mercedes-Benz, I leased a GLA-250. Sales experience was great (Chris Stacherski), Car is great! I look forward to my next 3 years with Mercedes-Benz."
5-Stars | Google+
Ryan McClain
Tim Pearson & Co.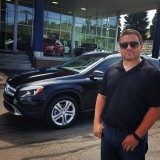 "I love my new car. I especially liked the package options that MB offers. They are smaller packages of features, unlike Lincoln where to get a good stereo you have to add on 3 packages before it. My salesmen Chris Stacherski was great and continues to be - he is very responsive to my texts. Thank God because I am too busy to sit down and read an owners manual. I just text him and BOOM I have the help I need quickly. I will be heading there this weekend to get my car washed and vacuumed for free and pick up a nice little gift from Chris. Keep up the customer service and I will be a life-long customer!"
5-Stars! | Yelp
Cristina Zatek
Health Alliance Plan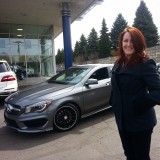 "Chris did an excellent job as a salesman! He assisted me in purchasing my first vehicle and guided me throughout the entire process. I highly recommend going to Chris. Very knowledgeable and kind!"
5-Stars! | Facebook
Vanessa Armendi
Royal Oak Beaumont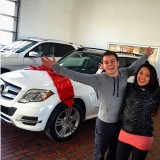 "You rock! Hands down THE BEST salesman ever!!!!! :) "
5-Stars! | Facebook
"Chris, thank you for helping me get my dream car! If anyone is looking for A plus service, he's your guy!"
5-Stars! | Facebook
Monique Davis
State of Michigan
"Chris, thank you for going all out for us last night. The presentation and unveiling were really exciting and completely unexpected! I appreciate the extra attention and big deal made for the benefit of Lara and Lucas especially."
Kokubo Family
Morgan Stanley