Have you ever wanted to Determine New License Plate Fee in Michigan? Many drivers are curious when shopping for a vehicle they're adding to the house!
This helpful post will give you the tools to do just that! The following links are the exact sames one's I use on a daily basis:
The Plate Fee Calculator:
A few things you'll need to know are –
The exact date you plan on getting the vehicle.
Is the vehicle Used or New? If you choose "Used", the calculator will need to know the Model Year.
Select a Body Style (most cases you'll choose "Passenger").
Input the Fee Category. (what is this?)
Select a Plate Type (choose "No Specialty Plate").
Plate Description…Choose Standard.
Then input your birth month and day.
Click "Calculate" and viola…your plate cost.
Plate Fee Calulator – http://services.sos.state.mi.us/PlateFee/Pages/FeeCalculator.aspx – Click Here
---
The Fee Category aka The Base MSRP / Standard Retail Price:
Every vehicle, no matter what automotive brand you're shopping, has a base MSRP price. It's the price of the vehicle before added optional equipment and packages.
We'll use the following window sticker as an example…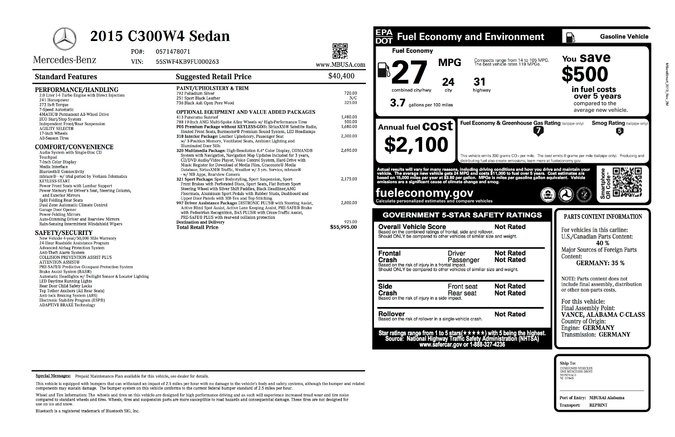 The Base MSRP of this 2015 Mercedes-Benz C300W4 (W4 = 4MATIC AWD) before options, is $40,400. The fee category will be "40". If you don't have access to the window sticker, just head over to NADA.com and search out your vehicle. Here is this vehicle's result (click here):
Now, give it a try yourself! Determine New License Plate Fee is easy!
This is what I came up with when inputting this as a "Used" vehicle…

Determine New License Plate Fee